About Us!

We take immense pride in introducing
Madhav Export
is a
manufacturer
and
supplier
of premium quality Digital Tiles. We established ourselves in 2012 and since then we have been working towards providing premium quality
Design Wall Tiles, Polished Porcelain Tiles, Polished Vitrified Tiles, Digital Wall Tiles, Ceramic Digital Floor Tiles For Bathroom & Kitchen
, to name a few. Our experts have put their heart and soul in the hard-work which has made us a trusted brand world-wide. We use robust and latest technologies in manufacturing premium quality of designer and ceramic tiles, porcelain floor tiles, ceramic digital wall tiles for kitchen and bathroom and ceramic sanitary ware. Fueled up with the passion of art, clear vision and ability to manufacture, we have expertise in both the conventional and the contemporary designs; we know just the perfect blend of both styles to suit the needs of the modern architects and beautify every home, office and kitchen space. We help you in adding your personalized touch to your space to soothe the ambiance and make the environment more refreshing.
Why Us?
All homeowners want their homes, offices, and other places structured with modern and strong tiles that can last years and maintain the aesthetic of the places. For the same reason, our company is highly preferred among the customers because of the following reasons:
Diverse range of designer & ceramic tiles
Stringent quality norms for sourcing raw materials
Competitive & transparent pricing
On-time delivery of consignment
One-stop tiling solutions starting from tile manufacturing to after sales service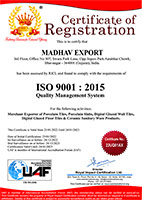 Read More