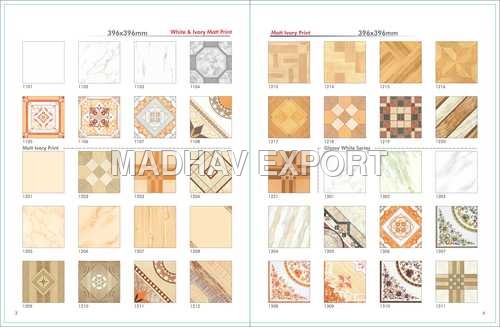 Product Description
Porcelain Floor Tiles are developed with the help of progressive moulding technology by using ceramic material that is checked before the production takes place. The tiles are preferred to wrap up the floors of bed rooms, balcony, parks and kitchen. They can add on to the beauty of your house plus make the floor strength. We are offering Porcelain Floor Tiles that are also famous as ceramic tiles. They are used to cover floors and walls of residential and commercial area and come with less water absorption rate. The tiles can be either glazed or unglazed; moreover the best thing is polishing these tiles is optional due to their glossy, hard and dense surface.
Key Points of Porcelain Floor Tiles
They automatically shine hence do not require any kind of polish. Porcelain is highly preferred in dry areas like wall murals, dadoes and less traffic areas because they are harder than normal ceramic tiles. Specialized cement is essential to install these tiles since they are tremendously heavy, dense and require strong adhesive to grapple weight of the walls. The Porcelain Floor Tiles offered by us are made up with thorough-body and are therefore durable and used in heavy load areas as compared to ceramic tiles. Some of their other key points are as follows:
Made with long-lasting treatment, expelled in a particular procedure and have some impurities.
Manufactured by using feldspar, clay and quartz; contains more kaolin than ceramic.
As compared to ceramic, the tiles are denser and less porous, resistant to moisture, hard than ceramic clay
Contain high feldspar which makes them more durable and sturdy.
Produced with accurate dimensions and thickness
Finished with smoothness and durability
Captivating looks and designs that enhances the beauty of the place
Further Details:-
We are also dealing in Porcelain Floor Tiles, which are also known as ceramic tiles, usually used to cover walls and floors and, with a less water absorption rate. These tiles can either be glazed or unglazed and are available for the average householder in late years. The hard and dense surface of porcelain has made polishing a feasible alternative to a glassy surface as these are able to create a shine without a polish. Porcelain is more harder than ordinary ceramic tiles and can be utilized in dry areas such as dadoes, wall murals and less traffic zones. Specialized cements are indispensable for the installation of these type of tiles as these are extremely dense, heavy and need a powerful adhesive to grasp the weight on walls. Our offered Porcelain Floor Tiles have through-body composition and are thus more durable and finer for heavy usages, in comparison with ceramic tiles.
Advantages:-
Bestowed with long-lasting treatment, extruded in the specific manner and have fewer impurities.
Formed with clay, quartz and feldspar, has more kaolin than ceramic.
Denser than ceramic, less porous than ceramic clay, hard and impervious to moisture
High feldspar content that make these more durable and strong.