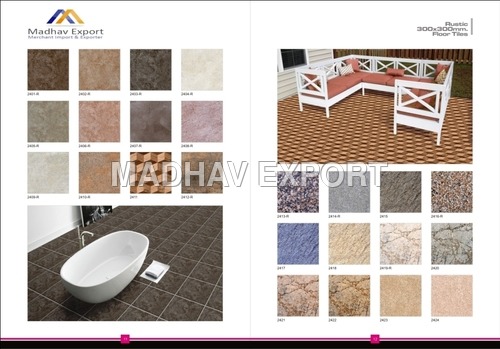 Product Description
Multi Charge Floor Tiles are opted for interior and exterior surface in commercial stores such as complex, hotels, companies and also in homes. They are made up of superior quality raw materials through progressive machines. They are made by digital printing technology over vitrified tiles. Moreover, users can have the tiles at market leading prices from us with best class quality. The offered range is manufactured with precise detailing rendering fabulous images & designs. The tiles are ideally reconstructed by meticulous resolution which has impressed the customer a lot.
Key Points :
The tiles come with an exclusion of having designs on varied size and surface either it is mat, flinty, glossy or flat. Some its features / important points are:
Contemporary look in every design
Smooth finished edge of tiles
Light weight
Available in mesmerizing patterns that enhances the look
More About Multi Charge Floor Tiles :
Digital Floor Tiles have become famous and high in demand for walls throughout the world. Offering the same, they can enhance the beauty of your house when used on your simple and bare floors. They are present in latest and trendy designs and also gives an option of having advanced resolution designs and pictures which gives an impressive look on the walls of offices, houses, hotels or any other place. The size and dimensions of our offered tiles varied from big patterns to small mosaic and can be customized in all the possible shapes.
Benefits of Multi Charge Floor Tiles :
Tiles are available in wide range of colors, sizes, designs that provides a luxurious and classy look in the used area. Some of their benefits are:
Enrich the looks of your home or company with an astounding makeover of the interiors.
Developed from high quality raw materials, hence capable of bearing high foot traffic and are water resistant with toughest wear.
They are present in several design sources such as fashion, aqua, nature and others.
Perfect for decorating the interiors and add on style in it according to the theme.