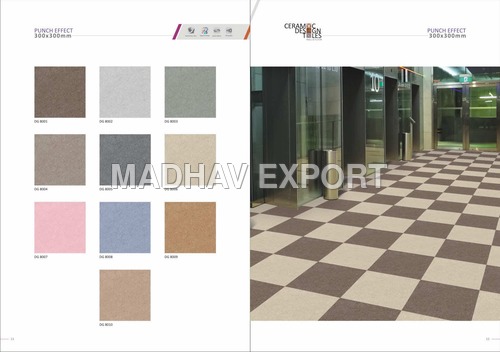 Product Description
Ceramic Floor Tiles used in brightening up of distinctive places are offered by us in a range of outlasting colors and shapes. These tiles are perfectly glazed and have magnified polished finish. These ceramic tiles can elegantly cover the floors and light it up in hallucinating colors drawn under creative patterns of art and printed patterns. The surface of ceramic tiles is smooth and rigid upon walking to provide firm walking on the floor and to avoid slipping over it. Made of tough raw material, these tiles are resistant to water, fire and dust. In cold weather, they have the capability of trapping the heat for better heat insulation.
Extra features of ceramic floor tiles:
In a gamut of designs like brick shaped, rectangular, square, plank, leveled cube surface, etc, these are available in a lot of styles to pick from
Being thawing and freezing resistant, these tiles are completely fit for outdoor flooring also as they brighten the outer surface to provide it with an alluring appearance
The working period of these tiles is of tremendous long time as compared to ordinary tiles and along with it, it do not sustain any form of cracks even after years of its spreading
These tiles are provided with moh's hardness, which even after a lot of scratches and dents do not let them appear on the surface, making them disappear instantly.